Cat Art Show 2: the Sequel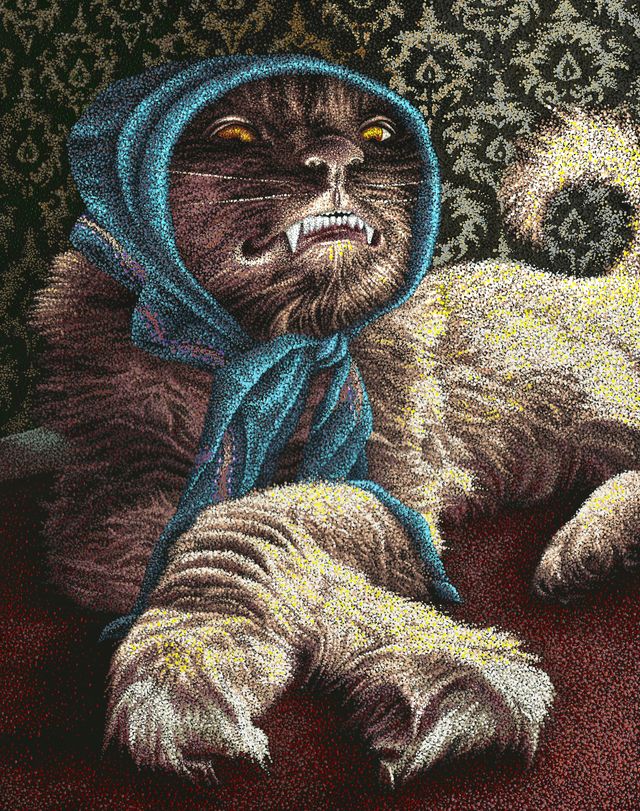 The LA
Cat Art Show
recently had its second installment, full of amazing artists, celebritys, and a flurry of feline portraits.
A limited engagement, the show is was only hung from March 24-27, but you can see all the
ARTWORK
as well as
PRESS
.
Participating artists:
Adriana Gasperi, Alexandra Troitskaya, Alexei Sovertkov, Annie Terrazzo, Brandi Milne, Brandon Boyd, Britt Ehringer, Cara Long, Charlie Becker, CYRCLE, Daniel Maidman, Dawn Bowery, Diane Hoeptner, Don Pendleton, Edwin Ushiro, Emma Mount, Fedele Spadafora, GAAS/Suara, Heather Mattoon, Horitomo, Ingrid Allen, James Seward, Jamie Fales, Jason Edward Davis, JeanPierre Arboleda, Jeff, Haynie, Jeff Nentrup, Jenny Parks, Joann Biondi, Johannah O'Donnell, JoKa, Katsunori Miyagi, Kerri Hobba, Koichiro Takagi, KOZYNDAN, Laura Keenados, Leslie Kirchhoff, Leslie Kirschhoff, Lucia Heffernan, Luke Chueh, Lyn Winter, Lynn Jones, Marie Vlasic, Marion Peck, Martin Hsu, Martine Coppens, Michael Caines, Michael Lindsay­Hogg, Midori Furuhashi , Natalia Fabia, Noah Eaton, Nuria Riaza, Paul Koudounaris, Rachel Schlueter, Rae Cook, Ravi Zupa, Rebecca Rose, Rebecca Artemisa, Rick Hardcastle, Rick Morris, Rob Reger, Rudi Hurzlmeier, Scott Hove, Scott Zaragoza, Silvio Porretta, Simon Tofield, Simone Legno (Tokidoki), Sonya Palencia, Stephanie Han, Suger Fueled, Thiago Goms, Tim Biskup, Tobias Keene, and Zane York.
Some in progress pics: